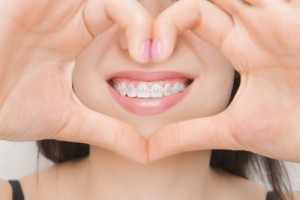 When you're on the journey to a straight smile, it's important to embrace the effort it takes to achieve such a feat. Braces are a lifestyle, and if you're all in, you get to enjoy the fun side of things along with the technical stuff – like choosing the braces colors that are right for you.
Clear
More people are getting braces today, especially because many of them have options when it comes to clear braces or accessories.  They can enjoy:
Invisalign or Invisalign Teen: Adults and teens who qualify for Invisalign are thrilled to have a nearly invisible alignment method that fits snugly to their teeth and doesn't interrupt work, school, life, or play.
Ceramic braces: Brackets and wires that match tooth enamel are available thanks to ceramic, tooth-colored braces. Once applied to teeth they blend right in.
Clear rubber bands: If you're wearing conventional metal braces but you want to mute the appearance of them as much as possible, clear rubber bands lend themselves to a more discreet look.
Silver
Of course, the most obvious and well-known braces are the traditional metal braces. The brackets are metal, the archwires are usually made of nickel-titanium – and they are noticeable. However, modern braces are far more subtle than ever before. Everything is smaller and more efficient, and some people prefer this look. They believe, "Hey, world, I'm wearing braces – I look great!"
If you want a big silver smile, make the most of the hardware on your teeth then add to it with silvery rubber bands, which get changed at every orthodontic appointment and adjustment.
Colorful
Whether you are wearing silver or ceramic braces, when you have brackets on your teeth, they require miniature elastics to get the movement to work the right way. Many patients discover that selecting the elastics and sporting them is their favorite part of orthodontic treatment.
From hot pink to purple, black to white, silver to gray, teal to dark blue, lime green to hunter green, the colors jump all over the rainbow so orthodontic patients can sport shades for:
Sports teams
School colors
Holidays
Favorite colors
Pride
Outfit complement
The colors of elastics allow you to express yourself, a relief especially if you're feeling hemmed in by braces in general. Show your passion with red, creativity with orange, happiness with yellow, love of nature with green, tranquility with blue, drama with purple, mystery with black, or innocence with white. You can get a rainbow of colors, two alternating colors, or only one solid statement color. If you end up disliking the shades you selected, it'll only be a few weeks until you can switch them out again. The fun part is experimenting as you go.
Color Your Braces Your Way
Philadelphia Orthodontists in Center City want every patient to feel comfortable and happy with their choice of braces. If you're ready for orthodontic treatment or believe your child or teen is, contact Drs. Roberts and de Marsche in Center City to learn more.